Company Registration Process Now Apply for GST along with Incorporation
company Registration process has been simplified and the number of forms has been substantially reduced making it easier to incorporate a Company and LLP in India by rolling out various process changes on the eve of the 69th Republic Day, and many changes post that changes announced by the MCA pertaining to Company Registration and the process for incorporation of a company in India in the year 2019.
Here, The following is the new banner on the MCA Portal announcing the major changes to the company registration process: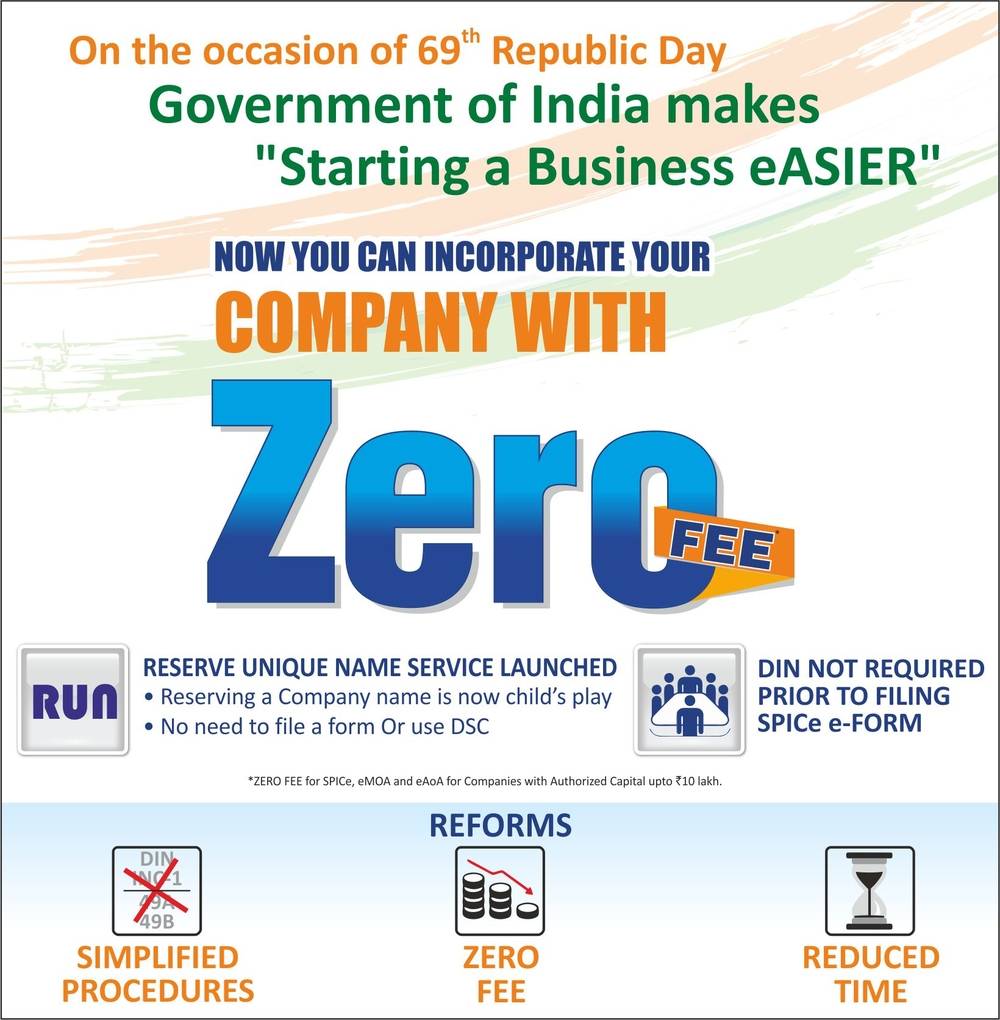 Reserve Unique Name (RUN) Form
Incorporation of a company has done with 2 ways
A prior name approval in RUN With the introduction of RUN web-form a company name can be reserved quickly and easily, And even before obtaining a digital signature. However, only one name choice can be provided at a time. And, The fee for name reservation using RUN web-form is Rs.1000 per form submission – irrespective of whether the name is approved or not.
or else, using SPICe form wherein incorporation certificate is provided if a name is acceptable to the MCA. Entrepreneurs who wish to incorporate a company with a unique name can directly file for incorporation using SPICE form saving time and money. On the other hand, if an
On submission of the RUN form with an Rs.1000 fee, the requested name would be checked by MCA personnel at the Central Registration Centre (CRC) against the company, LLP, and trademarks for tests of similarity. If the name is unique and conforms to the Companies Act 2013 name approval would be provided by the MCA and the applicant would be intimated through the email address mentioned on the MCA account.
Director Identification Number for Incorporation Process Change
All Director in a Company must have a valid Director Identification Number (DIN).
New DIN cannot be applied individually, and it has to do in SPICE Forms, and in case of appointment in an existing company then the company has proposed his appointment in the DIN forms
DIN Application with SPICE
Any person who wishes to incorporate a new company can now apply for DIN only through the SPICE form. Hence, the details of Directors for whom DIN has to allotted on incorporation has to file into the SPICE form along with their PAN or Passport details. On incorporation of a company, DIN has to allot for each of the Directors who did not have DIN.
In case a person having DIN in incorporating a new company SPICE form has still used a DIN and has to enter where ever applicable.
Zero Government Fee for Incorporation (Stamp has to paid)
The MCA in an effort to simplify the company incorporation process and spur new Startups has announced zero fees for incorporation up to 15 Lakh Authorized Capital.
Though zero fees have been announced for the SPICE form MOA, and AOA – stamp duty would still be applicable for incorporation as before depending on the state of incorporation and if the Authorized Capital is more than 15 Lakhs applicable fees need to be paid.
Company Registration Process in 2019 now Apply for GST Along at the Time of Incorporation
Company Registration Process
Registering, a private limited company in Bangalore requires the support of CA/CS/Lawyer, as the legal procedures have involved in it, And it's a complicated process but does not worry Here, our team of experts will take care of these issues. 
Step 1: Apply RUN ( Reserve Unique Name Form ) (Name Availability)
Step2: Obtain DSC and Form SPICE INC-32 (E Form used for Company Registration)
Step3: Drafting of MOA in SPICE INC – 33 and AOA In SPICE form company registration
Step4: PAN and TAN Application Along with Form SPICE INC -32 (E Form used for Company Registration)
Step5: After, completion of the above-mentioned process of company registration, ROC Issues Certificate of Incorporation
So, the next time someone you wonder, how to register a company in India, and you can easily log in to our website and use our services.
Now, that you have understood the Steps involved. We will get into the intricate details of about company registration and its procedures
We can choose any of the methods for name approval
Approval through RUN form route
2. Direct SPICE Route
Method 1: Incorporating a Company via RUN (Reserve Unique Name) form:
RUN(Reserve Unique Name) Form gives only Two chance for applying one is original submission and the other is in resubmission mode. Therefore, You must ensure that the names should not be general and should be closely resembling with other companies detailed understanding of name availability guidelines
Only, In one application we can apply for Two names in case of Resubmission, we can apply for the next two names, and you can check the names through this government portal link, or refer our detailed on company name selection. 
METHOD 2:
Here, we can Apply directly in SPICE INC-32 for company registration and get a direct certificate of incorporation the only pitfall is that we have applied only one name and all legal documents has fully prepared to proceed with this, if the name has rejected then, we have to completely redo entire documents such as, INC- 9 ( Affidavit), DIR -2 ( Director Concent) and all other documents including NOC from owner.
Step 2: Form SPICe (INC-32) form used for Company Registration in Bangalore
Therefore, DSC ( Digital Signature) has simple terms means your physical signature has a digital form this does not mean your physical signature has copied and pasted all your data that has PAN number and other details have embedded in a file that has to download in an e-token.
The e-token has password protected. Which will act as your digital signature for company formation, GST registration, PF Registration and for Income Tax filing. We  have to use class 2 DSC provided by government-approved vendors such as, e-mudra or Sify or N-Code
Therefore, MCA ( Ministry of Company Affairs) has introduced Form SPICe (INC-32) for easy and fast company registration
Application for allotment of DIN (Director Identification Number)
A Reservation of company name
Incorporation of a new company
Application for PAN and TAN
Step 3: e-MoA(INC-33) and e-AoA (INC-34)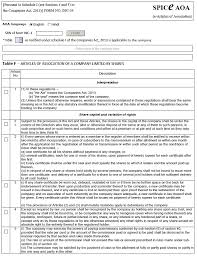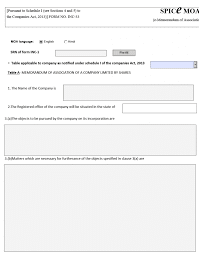 Therefore, e-MoA refers to an electronic Memorandum of Association, and eAoA is electronic Articles of Association.
Hence, Memorandum of Association in Company registration represents the charter indicating the lines of business, its operation as the main business and other activities related to its main business activity.
Therefore, Articles of association used in company registration process define the powers, rights, and responsibilities of the directors and shareholders.
Step 6: PAN and TAN Application
Through, this single form SPICe you have mandatory to apply for PAN and TAN. By using forms 49A for PAN and 49B for TAN.
Therefore, The system will auto-generate these forms after the submission of SPICe form.
Step 7: Apply for GST Registration and ESI PF Registration along with Company Registration
The application for incorporation of a company, under rule 38 has accompanied by e-form AGILE (lNC 35). This containing an application for registration of the following numbers, namely  (a) GSTIN with effect from 31st  March 2019 (b) ITPFO with effect from 8th April 2019 (c) ESIC with effect from 15th April 2019  
Given the Governments pushes for Startup India. Entrepreneurs would choose to incorporate a company instead of an LLP or Proprietorship or Partnership firm.
In case of any help or assistance in filing your company registration in Chennai, company registration in Mumbai, Company registration in Bangalore contact Virtual auditor support team on 9962 230 333/9513 93 9333/044- 48560333 /mail us [email protected], our team will guide through the entire process and help you comply