How to Register a Company / Start up in India
How to Register a Company /Start up (Company Registration Process), Registering as a Private limited (Pvt Ltd Registration)  is the first step corporate journey, it is a structure where your liability in case of a loss, is limited to capital invested, this benefit is not available in a proprietary business where you have unlimited liability Company Registration in India is governed by Companies Act 2013 which lays down the procedure for registering and managing a company and its affairs, Ministry of corporate affairs through www.mca.gov.in which is its E-Portal manages the compliance under the companies act and all company formation related formalities must be done through this e portal
Steps for forming a Private Limited Company Registration:
Step1: Apply RUN ( Reserve Unique Name Form ) (Name Availability)
Step2: Obtain DSC and Form SPICE INC-32 (E Form used for Company Registration)
Step3: Drafting of MOA in SPICE INC – 33 and AOA In SPICE form company registration
Step4: PAN and TAN Application Along with Form SPICE INC -32 (E Form used for Company Registration)
Step5: After completion of the above-mentioned process of company registration, RoC
Issues Certificate of Incorporation
So, the next time someone you wonder how to register a company in India, you can easily log in to our website and use our services.
Now that you have understood the Steps involved, we will get into the intricate details of about company registration and its procedures as to how to register a company
We can choose any of the methods for name approval
Approval through RUN form route
2. Direct SPICE Route
Method 1: Incorporating a Company via RUN (Reserve Unique Name) form:
RUN(Reserve Unique Name) From gives  only Two (2) chance for applying one is original submission and the other is in resubmission mode, You must ensure that the names should not be general and should be closely resembling with other companies detailed understanding of name availability guidelines
In one application we can apply for Two names, in case of Resubmission we can apply for the next two names
You can check the names through this government portal link, or refer our detailed on company name selection
METHOD 2:
Apply directly Directly in SPICE INC -32 for company registration and get a direct certificate of incorporation, the only pitfall is that we can apply only one name and all legal documents must be fully prepared to proceed with this, if the name is rejected then we have to completely redo entire documents such as INC- 9 ( Affidavit), DIR -2 ( Director Concent) and all other documents including NOC from owner
Step 2: Form SPICe (INC-32) form used for Company Registration
DSC ( Digital Signature) in simple terms means your physical signature in a digital form, this does not mean your physical signature is copied and pasted, all your data that is PAN number and other details are embedded in a file that can be downloaded in an e-token.
The e-token will be password protected which will act as your digital signature, for company formation, GST registration, PF Registration and for Income Tax filing we  have to use class 2 DSC provided by government-approved vendors such as e-mudra or Sify or N-Code
MCA ( Ministry of Company Affairs)  has introduced Form SPICe (INC-32) for easy and fast company registration
Application for allotment of DIN (Director Identification Number)
Reservation of company name
Incorporation of a new company
Application for PAN and TAN
Step 5: e-MoA(INC-33) and e-AoA (INC-34)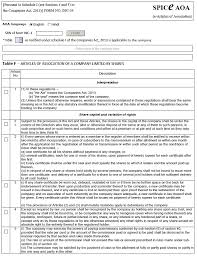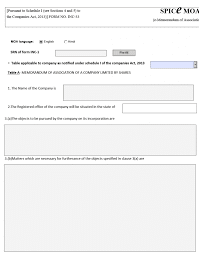 e-MoA refers to an electronic Memorandum of Association and eAoA is electronic Articles of Association.
Memorandum of Association in Company registration represents the charter, indicating the lines of business its operation as the main business and other activities related to its main business activity
Articles of association used in company registration process define the powers, rights, and responsibilities of the directors and shareholders
Step 6: PAN and TAN Application
Through this single form SPICe, you have mandatory apply for PAN and TAN by using forms 49A for PAN and 49B for TAN.
The system will auto-generate these forms after the submission of SPICe form.
To know more about " How to Register a Company" or For Company Registration in India , guidelines on
Private limited company registration online in India, Delhi NCR, Mumbai, Bengaluru, Chennai etc. Get company registration in 10 days @10k contact 9962 230 333/ 95139 39333 , visit private company registration at the virtual auditor / mail us  @ [email protected]